Detects both Mac and non-Mac threats, viruses, spyware, trojans, worms and adware, on your computer, network drives, external disks and downloaded from the internet or received by email.

Optimised for macOS Ventura. The file-access scanner, updating and scheduled scans all run in the background with minimal affect on CPU usage or computer performance.

System Requirements:
OS X 10.6 to macOS Ventura
500MB Disk Space
1GB RAM

ProtectWorks AntiVirus 2.0 is designed to allow you to quickly identify and remove any threat that has been found on your computer.

The file-access scanner runs in the background, checking every file that is used and prevents access to the file if it contains a threat.

Files that contain threats are quarantined and cannot be accessed. Perform a suitable action on the file via the Quarantine Manager.

The software checks daily for updates and any new files or data are automatically downloaded and installed immediately.

Choose either custom desktop notifications or OS X-style desktop notifications to be alerted when something needs your attention.

Scheduled scans can run in the background at regular intervals or at specific times, or even when there has been an update to the threat data.
An intuitive user-interface allows you to perform key tasks such as one-click Computer or Home folder scans, or scan any chosen location (which can also be done directly from the desktop), manage scheduled scans and access all the features of the software.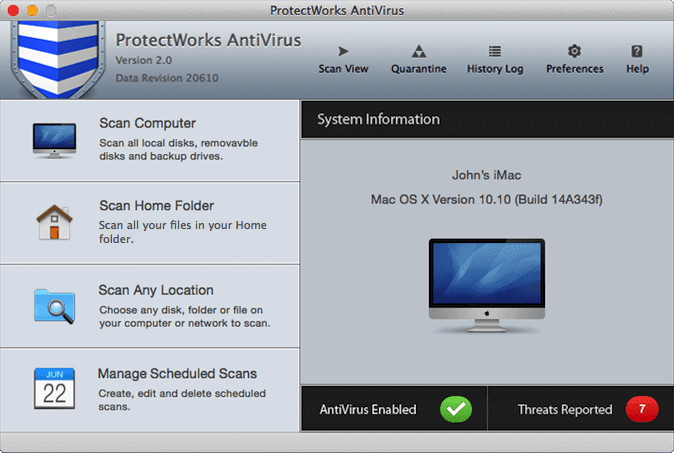 The Scan View displays all the scans that have been setup, it shows all the standard Device and Location scans for your computer and any user-defined Location scans and Scheduled scans that you have configured. Multiple scans can run simultaneously and the status and progress of any running scan will be shown in the window.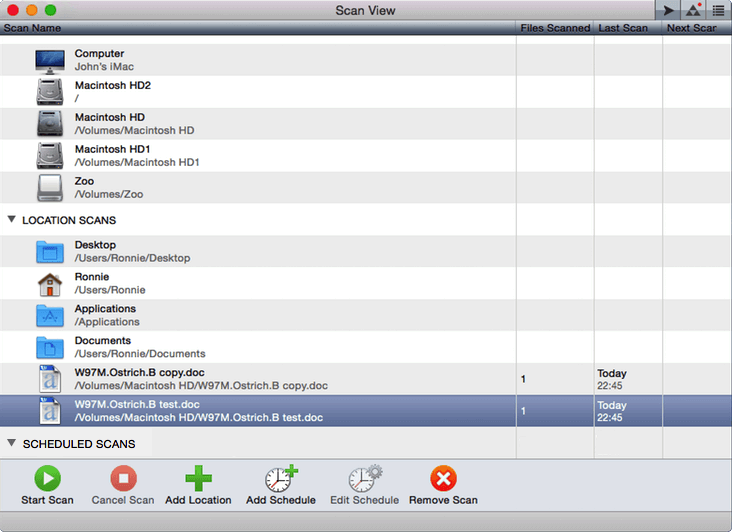 The Quarantine Manager provides details of any threat that has been found and allows you take the appropriate action, such as delete or repair the file. Deleted and Repaired files can be restored from the Quarantine backup or removed completely using the 'clear' buttons. Check out the File Info and Recommended Actions sections for more information on any threat that has been discovered. Export the threat list and all the associated information to a file so that you can review it later our send to Support for further analysis.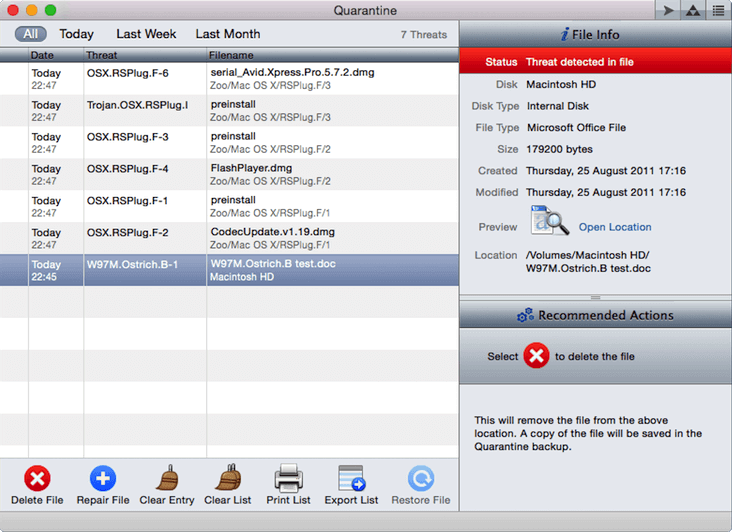 All events are recorded in the History Log and (optionally) in a log file. Multiple events can be viewed in detail in separate windows by clicking the Show Event button. The History can be configured to retain all information or have old items automatically purged.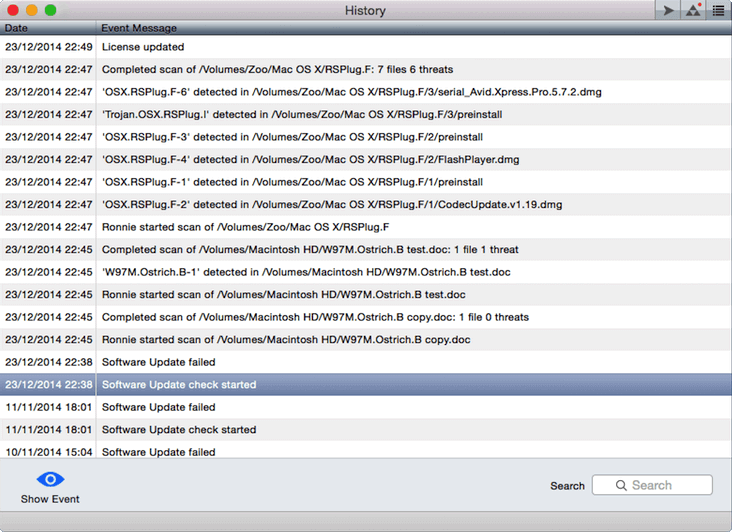 Desktop Scans and Notifications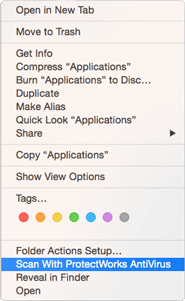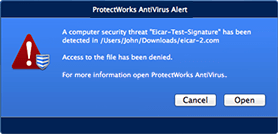 Scans are displayed on the desktop whenever a scheduled scan is running, an external removable disk appears on your desktop or when you choose 'Scan With ProtectWorks AntiVirus' from the Finder contextual menu or Finder > Services menu for a selected disk, folder or file.
Standard Desktop alerts or macOS Notification Center style alerts (10.8 or later) can be chosen for all desktop notifications and warnings.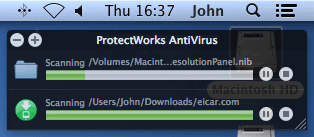 Hover mouse cursor over image to pause the slideshow.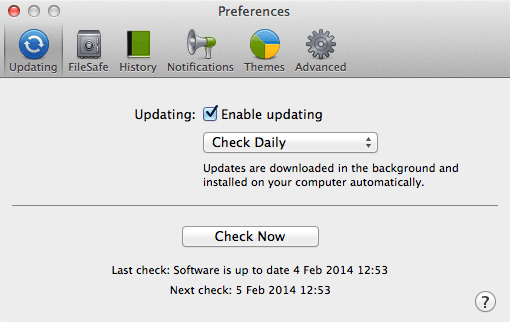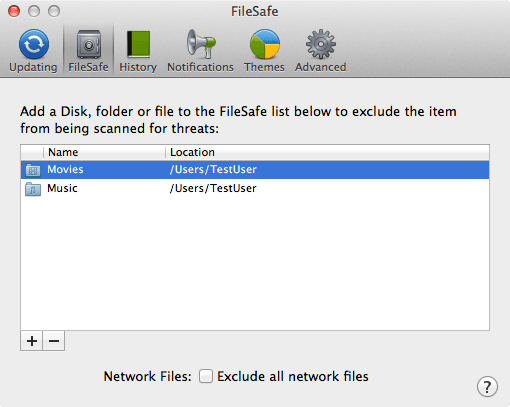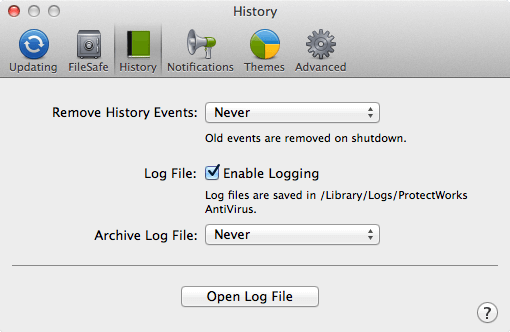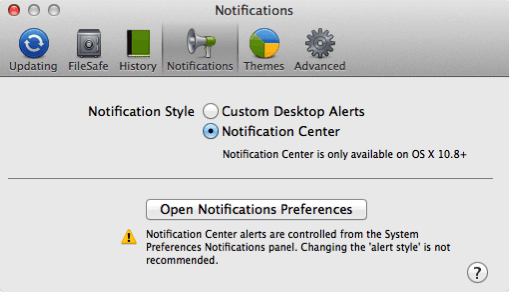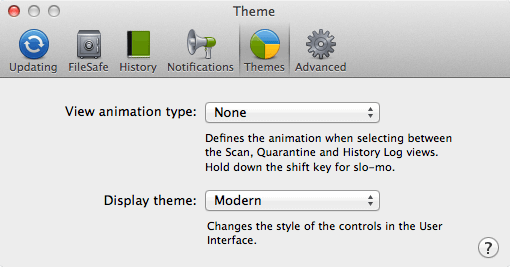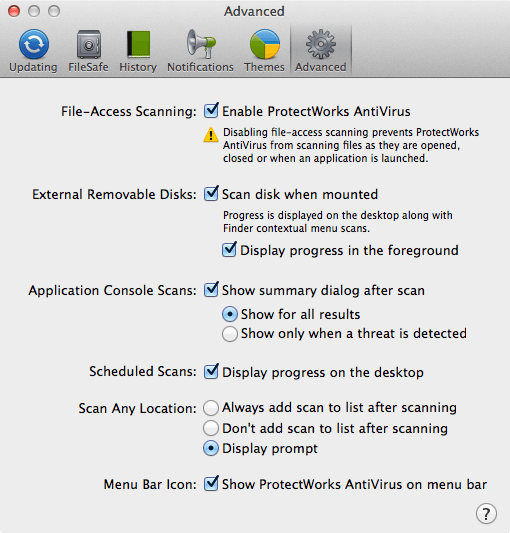 | | | |
| --- | --- | --- |
| Feature | AntiVirus | Description |
| Background file-access scanner | | Checks each file automatically as it is accessed by you or OS X, downloaded from the internet or detached from an email, and blocks access to any file that contains a threat |
| | | Scan any accessible location on your Computer or network from the main application |
| | | Configure scans to run in the background at regular intervals, specific times, day and date, and even when there is a data update |
| | | Scan disks, folders and files directly from Finder or the Services menu |
| Automatically scans inserted disks | | Whenever a DVD, CD, USB Device etc. is inserted, or a disk image file mounted on your desktop, the disk is automatically scanned |
| | | Multiple on-demand, scheduled, desktop and file-access scans can run simultaneously |
| | | User locations can be added to the scan list |
| | | The System Menu Bar icon indicates the status of the antivirus and is a convenient way to open the main application, view the log file and enable/disable the software |
| | | Manage any threat detected on your computer or network via the Quarantine Manager. The quarantine displays detailed information about any threat found and any 'Recommend Action' that has been taken on a threat, saving this information in a threat database |
| Delete/Repair infected files | | Files that contain threats can be deleted or repaired (where appropriate) |
| | | The Quarantine Manager allows files that have been deleted or repaired by ProtectWorks AntiVirus to be restored |
| | | Export all the information in the Quarantine to a external report file |
| | | Checks the ProtectWorks Servers at regular intervals for updates and installs them automatically in the background |
| | | Update checks can be performed at any time from the main application or the system menu bar |
| | | Alerts and warnings are shown on the desktop and displayed as either a ProtectWorks style notification or an Apple Notification Centre style alert (10.8+ only) |
| | | Maintains an onscreen log of all activity performed by the software |
| | | Browse the onscreen log for specific events |
| | | The History log can be manually purged at any time, or configured so that older events are removed automatically |
| | | Automatically save events to a log file anywhere on your computer as they occur |
| | | Detects all known Mac and Non-Mac viruses, spyware, trojans and worms. The software checks daily automatically for the latest threat data; users can perform manual update checks at any time via the menu bar icon or Update preferences. |
| | | |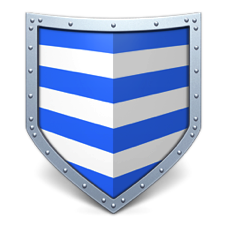 ProtectWorks offers a free Evaluation mode that provides the same protection and functionality as the full version. The evaluation runs for 30 days, thereafter, you will need to purchase a license and enter a key to continue using the software.

Download and run the ProtectWorks AntiVirus installer. If you have an earlier version of the software installed, your existing scan information, preferences and license details will be transferred during the installation.
OS X 10.8 to macOS Ventura
Read our Privacy Policy on the data we collect from you when communicating with ProtectWorks.
Full details of our Software License Agreement can be found on the following web page.
Answers to Frequently Asked Questions about ProtectWorks AntiVirus can be found here.