Legacy System Extension Notification
Apple introduced a System Extension compatibility check in macOS Catalina 10.15.4 to notify users of software that contains a Kernel Extension (KEXT). If you are seeing a notification message appear informing you that a Legacy System Extension has been loaded then you should update to ProtectWorks AntiVirus version 2.0.15 or later.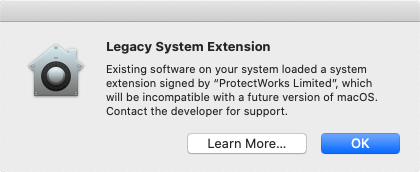 Note, if you are running a licensed version of ProtectWorks AntiVirus then the background updating feature will automatically download and install the latest version of ProtectWorks AntiVirus. Alternatively, check manually for updates by selecting 'Check for Updates' from within the software.

The latest ProtectWorks AntiVirus installer can be download from the
here
.
ProtectWorks AntiVirus version 2.0.14 and earlier versions install a Kernel Extension (KEXT) to implement real-time scanning in the background, checking files for threats as they are accessed. If a file contains a threat then access to the file is blocked and an alert appears. If a file does not contain a threat then access to the file is allowed.

Apple support for Kernel Extensions was phased out in macOS 11 Big Sur. Read the Apple Support article:
https://support.apple.com/en-us/HT210999