Legacy System Extension Notification
Apple have introduced a System Extension compatibility check in macOS Catalina Version 10.15.4 to notify users of any software that contains a Kernel Extension (KEXT). Consequently, ProtectWorks AntiVirus users running macOS 10.15.4 or later will see a notification message appear informing them that a Legacy System Extension has been loaded: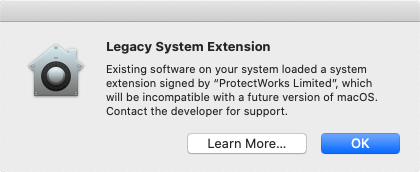 ProtectWorks Antivirus will continue to operate as normal and there is no need to inform ProtectWorks about this message. A new version of ProtectWorks AntiVirus is being developed and will be released in due course.

ProtectWorks AntiVirus currently installs a Kernel Extension (KEXT) to implement real-time scanning in the background, checking files for threats as they are accessed. If a file contains a threat then access to the file is blocked and an alert appears. If a file does not contain a threat then access to the file is allowed.

Apple support for Kernel Extensions will be phased out in a future version of macOS - a final transition date has yet to be set. Read the Apple Support article:
https://support.apple.com/en-us/HT210999