macOS Ventura Login Items
macOS Ventura allows Admin users to enable and disable background items from running, tasks such as checking for updates, synching data and real-time antivirus scanners can be configured in the Login Items System Settings.


It is NOT recommended that you turn off ProtectWorks Limited as this will prevent ProtectWorks AntiVirus from scanning for threats in the background in real-time, making your Mac vulnerable to threats as you access, download or copy files to and from your Mac.
If you have inadvertently disabled ProtectWorks AntiVirus background functionality then an alert will appear on your Mac.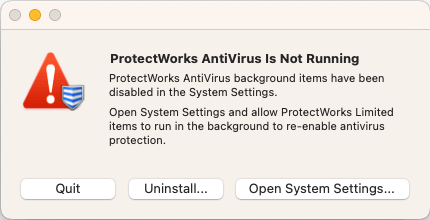 To re-enable ProtectWorks AntiVirus
Select

Open System Settings

in the alert dialog. This will open the System Settings ->Login Items settings page.

Move the switch for the app ProtectWorks Limited to the on position.